Rescue Groups Join for FREE!

For the Love of Rescues is a yearly produced wall calendar
featuring dogs from the participating rescue groups
Calendars are $15 each.
100% of the proceeds go to your group.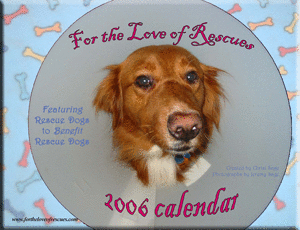 For the Love of Rescues produced its first calendar in 2006 and since then has raised thousands of dollars for rescue organizations, $10 at a time.
Sign up with me to be a participating group
Always FREE! You should raise money, not spend it on me

Give me your website/Petfinder web address
I'll link to you from this website

On Facebook? Follow my page & I'll follow yours
Great way to help promote the project!

Include your group's dogs in the calendar
Check out below how to send your success story pictures

Calendar sales begin in August
How Does it Work?  Online Sales
I sell the calendars on this website
$15 ea. plus shipping (2 or more free shipping)

Buyers choose a rescue group when purchasing
We want this to be YOU!

I take the orders, payments, and ship the calendars
Payments are via PayPal or personal check

You spread the word and promote the calendars
It's that easy!

February I mail you a check for the total raised
How Does it Work? In-Person Sales
You order calendars from me at cost
$5 each plus shipping

You offer the calendars to supporters in-person
At rescue events, adoptions or your facility

Charge whatever you like
You keep everything you take in!

No minimum to order
Start small and order more if you sell out

THIS IS NOT AN OBLIGATION TO PARTICIPATE!
Submit Your Photos
Submission dates are April 1st - June 1st
FREE to include your pix in the calendar!
Have your group's dogs featured in the calendar
Proud adopters buy copies!
Participating Rescue Groups
A Listing of All the Organizations
List of Participating Rescues
A listing of all of the participating rescue groups
alphabetically organized by state.
Calendar Preview
Details about the Calendar layout
Preview the Calendar!
Check out the Calendar's Features!
See what is included and get a preview of each month
CLICK HERE FOR MORE